Our day 3, is on the trip to the Mount Kinabalu. The trip up to the hill is indeed refreshing and a fun trip. Roads are not straight road but uphill road.
We reached there but the weather is very cold and the clouds is thick. We hardly can see the tip of the mountain and slight disappointment.
Along the way, we see cars and stalls of selling local food and delights
We are now on the hill but is not the tip. It is at the road where is the final stop for cars. So, you need to walk up if you want to reach up. We did not make our move up but we stop at the Final Car stop which is at the Pondol Timponan. Here you may see the people helping to carry your bags with RM 10-20 per kilo up hill.
The bag guy- who help carrying the things up the hill. He is only 2-3 hours to reach the up hill with 10 - 20 kg things from his back. Faboulous isn't it?
- On the way, you can sit around the corner and have a relaxing moment enjoying the breeze.
- The flowers on the way up
- The route to walk up the hill
- The resort of the Kinabalu Mountain
We had our pictire taken in Gunung Kinabalu an dis real freezing cold.
After the mountain hill, we headed to the Kundasang War Memorial where the place to remember the dead of the Australian Soldier during the Japanese Occupancy. And is all about the Sandakan March which had kills thousand of people. The memorable place is full of flowers
We ended the trip down to hill and due to the weather, we need to have a slow drive down. On the way, we enjoyed the local fruits which is buah talap, a combination of durian and nangka i should say that with only RM 2
The Buah Talap
The Inside View
The thick clouds civering the road which is simply dangerous and go slow.. and we hardly see the road.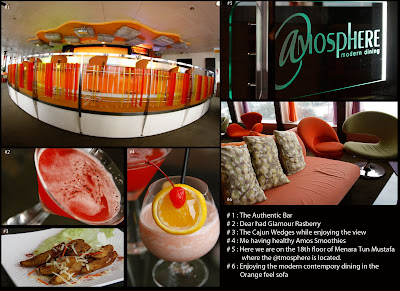 We also enjoyed ourself at the Atmosphere in Menara Tun Mustapha. The upabove 18 Floor and looking around at the beautiful view of the town





We also had some pictures at the Menara itself